About Us
Our History
In 1979, this company began its operations in a small office on Flower Road, primarily functioning as Insurance Agents of the Government Insurance Corporations in existence then. In 1988, the liberalization of the Insurance Industry paved the way for the company to operate formally as Insurance Brokers and we were amongst the very first companies getting an Insurance Broking License.
From its beginnings in a small office using a handful of staff, today Senaratne's operates from a suite in the Liberty Plaza, Colombo 03. Our highly trained staff includes 3 people who are Chartered Insurance Brokers. We were the first company in Sri Lanka to have been investigated by Lloyd's of London and found to be a suitable organization to act as a Lloyd's Cover holder.
Thus, in 1988 we were granted the status of "Lloyd's Correspondents" in Sri Lanka, which speaks for our professionalism and experience in insurance. Unfortunately in actual practice, it was not possible to give meaningful effect to this prestigious appointment by reason of the insurance regulatory terms applying in Sri Lanka.
We also provide international healthcare services on behalf of BUPA International as well as AVIVA International.
Our Vision
To be a world-class insurance intermediary providing tailor-made risk transfer solutions for corporate and personal protection needs.
Our Values
Trust:

Our most valuable asset is the trust that we have developed and maintained since our incorporation in 1979, and our employees execute all their responsibilities with the highest integrity.

Flexibility:

Clients have different needs, so why should they all be served the same way? Each customer is unique to us, so every policy should be pre-selected to align with their needs.

Teamwork:

We believe that individuals can be greater than the sum of their parts once they achieve cohesion behind a shared vision. That's why our most prized investments are our people.
Achievements
In 2017, Senaratne Insurance Brokers (Pvt) Ltd, Joined the ranks of the Global elite in insurance broking when endowed with "Corporate Chartered Status" the benchmark of Professional Excellence and Integrity. Such appointment is the first in South Asia and the only company singularly so recognized by the Chartered Insurance Institute, under the empowerment of the Privy Council.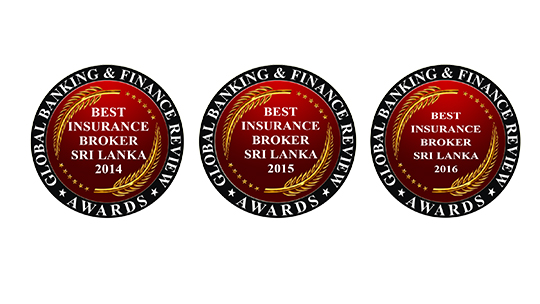 Winner of Best Insurance Broker 2014, 2015, and 2016 awarded by Global Banking & Finance Review Awards.
CSR
Staff distributed gifts and food items to Maharagama national Cancer hospital patients.